Anything sweet is a complete treat to people of any age! Donuts are surely a very important part of the sweet category. They are a favourite food item for anyone in the US so much that they have a National Donuts Day on the first Friday of June every year! Now, this is something!
You name a colour and there is a doughnut for it! Today we are going to talk about having digital menu boards at your donuts shop. They will definitely grab more eyeballs to your menu.
Certainly being creative in making donuts would make them binge worthy but what would be even more worth it is the amazing display of each one of them on a digital board.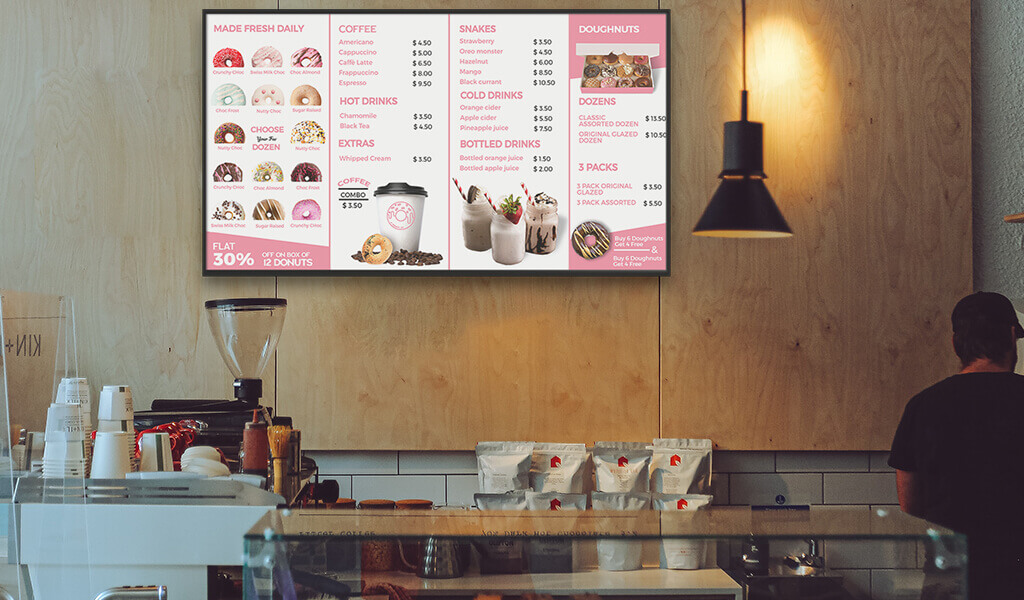 Imagine creating a slideshow with beautifully captured images of these donuts on the TV. It is surely going to increase the appetite of anyone who is planning on having only one donuts.
That's the beauty of a digital display!
5 reasons to have a digital menu board at your donuts shops!
1. Create slideshows with menu, food images and videos
Instead of just using the TV screens to display menus, it can be made more interesting with slideshows that show different things.
Right from high quality food images, good videos to interesting facts about donuts, you can mix and match to create a playlist interesting enough to grab the attention of the customers as well as passerbys.
Videos can be a great way to get more eyeballs to your menu board screen. Go on to display an interesting video on donuts being prepared in your kitchen and the ingredients used in it.
Surely the colourful displays on the screen will work in your favour!
2. Highlight the donuts that give you highest margin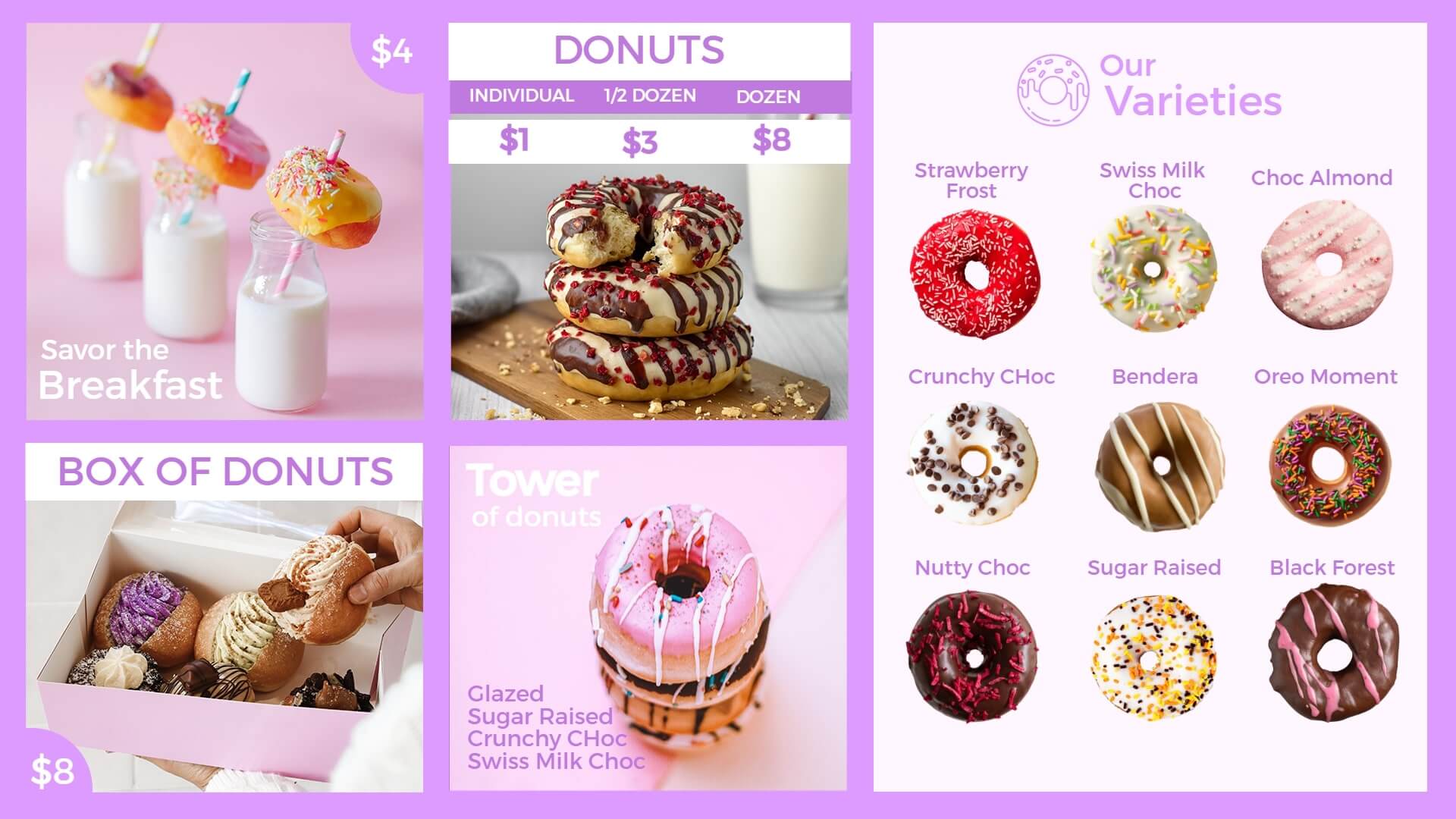 Surely your donuts that give you higher margins compared to others own it for a reason. They are definitely among top favourites and customers are willing to pay for them.
Along with displaying each item that belongs to this particular category, it would be nice to educate your customers by displaying the list of ingredients that went to make them.
Surely each donuts will have something different and customers would want to know. It would in a way also create more interest in customers while they are placing orders. That way if someone is allergic to something, they know it well and place order accordingly.
3. Create a separate menu for new additions of donuts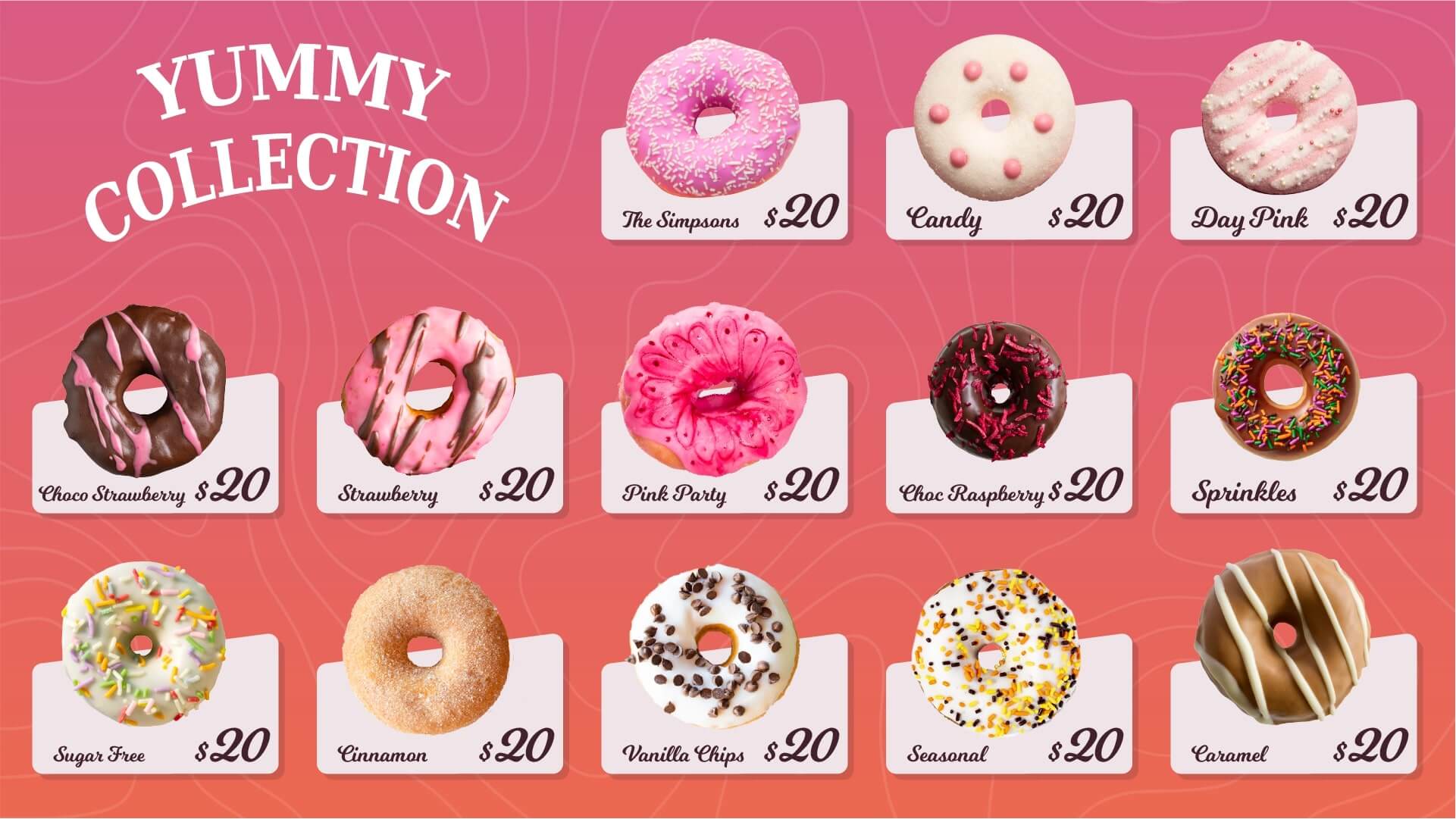 If you have introduced new donuts to your menu, surely you would want your customers to take note of them.
Start with creating a separate menu for the new items. Go on to display some nice images of each of those menu items, give more details about them and the reason why you thought of adding them to your menu.
You can also pick up a good time like lunch hours or dinner hours to display these items so these items are noticed more.
4. Give your menu a regular spin-off to create it more interesting for your customers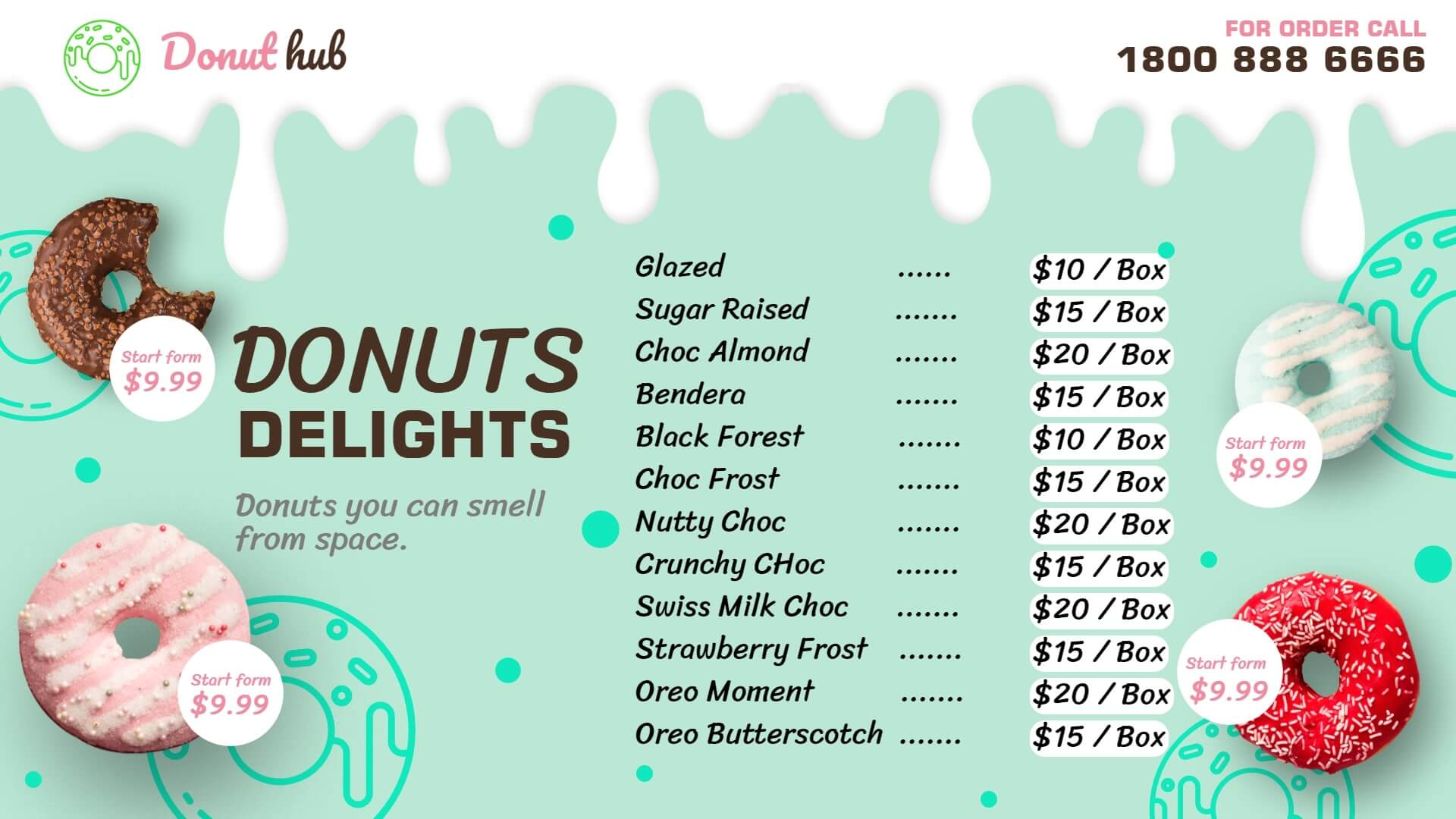 Having the same menu image can be good but having a different version of it every once in a while can be even better!
Use the same background and template but go on to put different donuts images and place the menu categories differently to create a different look.
With digital signage template editors , you are free to make design and edits templates like you need.
If you at all feel that your current menu needs a complete revamp, you can select one of the many ready templates that menu board software offers and start working towards it.
5. Save costs on paper prints and save time on menu updates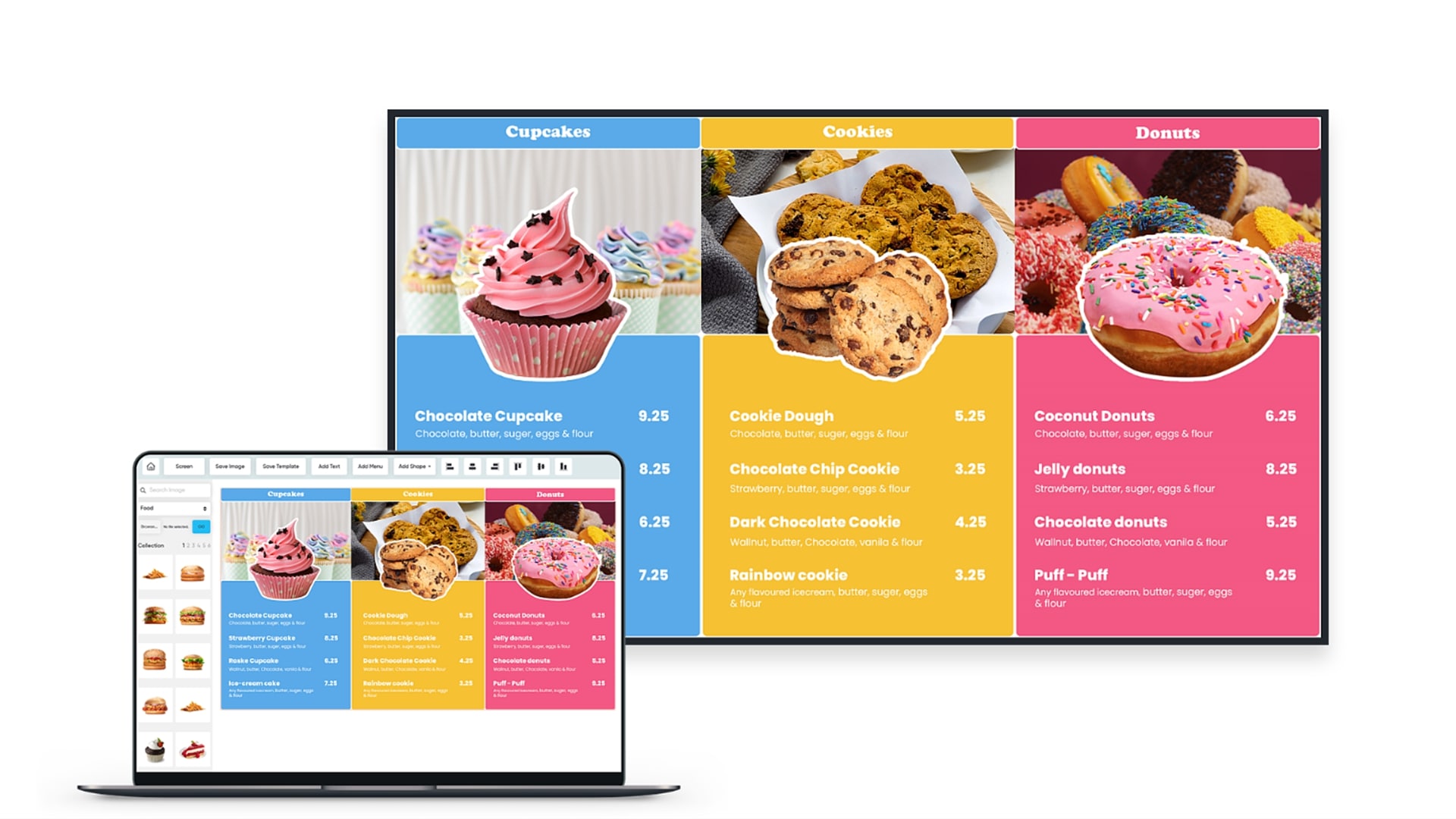 Lets face it, paper menus are tedious! A single letter change or a price change and you have to get all the paper menus reprinted. Plus you need to bear the cost of getting the design changed and also getting the menus printed.
With digital menu boards at your donuts shop, all you need to do is just login the software, make the edit in the price as you need in minutes and go on to publish it.
That's it! It just takes a few minutes. If there is an instant update, you can do that as well from anywhere. It's practically a life saver.
Here are some interesting templates that we offer with our software that you might be interested in: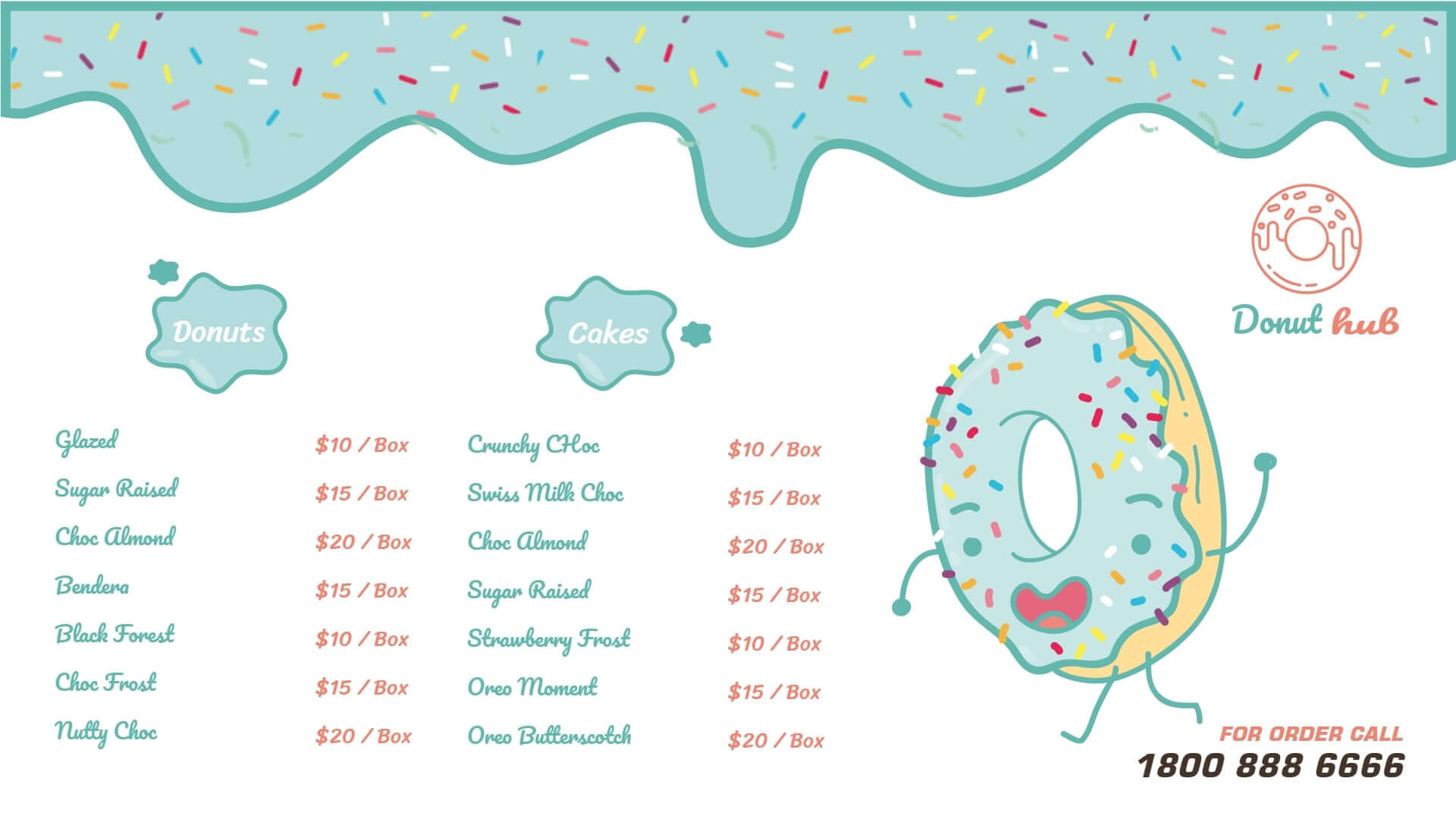 Are you having thoughts of getting one for your donuts shop? Easy! Drop a quick line on sales@lirascreen.com to discuss further.