Digital menu boards clearly hold a strong future in the restaurant industry.
Most of the restaurants are now moving to the menu boards to enhance customer experience and offer contactless service as much as possible.
According to a recent survey, around 30% of the customers find digital menus an influencing factor in their purchase for a product. A recent figure suggests that around 8000 restaurants globally are at this point inclined to have digital menus.
What is a digital menu board?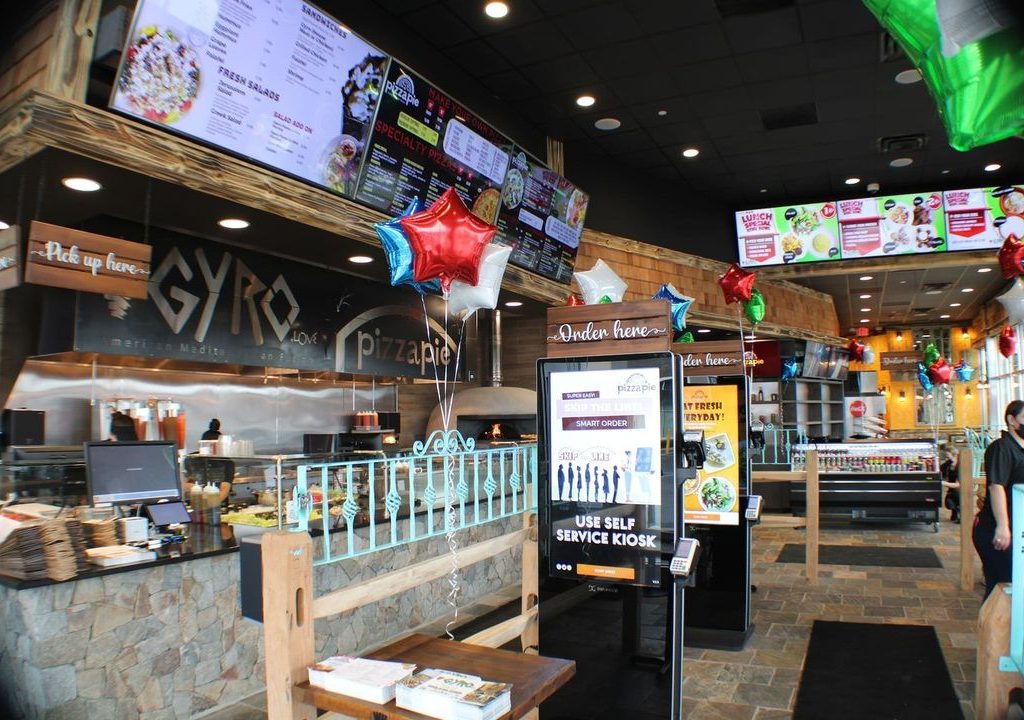 They are those TV screens that you see across restaurant chains like Subway, Burger King and McDonald's to display the menu items as well as the order status. They are different from paper menus because they can easily accommodate any format of information be it in images, videos or text.
In the past couple of years, their importance and usefulness had increased almost as if they were made to shine out during these times. Necessity is the mother of invention and so digital menu boards are the new way to go.
---
---
Coming to your business, you clearly must be thinking how these digital boards will pan out for your growth and betterment. Right for the costs to procure the hardware, software, the installation and mounting costs to the maintenance costs, all these need to be factored into before arriving at a decision.
At the end of the day, the cost should be covered up with the benefits.
Are Digital Menu Boards worth it for Your Small Restaurant?
A few initial points to consider would be how the customers respond to your current menu.
1. Does your staff often face questions on specific dishes on the menu?
You might see many of your staff members answering the inquisitive questions from diners who are looking to try something new. A dish that they are unfamiliar with would need some introduction and details about it.
While it's good to see that diners are interested in trying something new, this scenario won't work out well during rush hours. A fixed number of staff cannot clearly tend to all the questions of the diners.
Digital menu boards on TV or in the form of a tablet can work out to the best here.
2. Is the waiting time to place an order a factor that impacts customer experience at your restaurant?
Paper menus are limited and when you are running in full capacity, it could happen that all the tables might not have them as imagined. This leads to lack of table turnaround and more waiting time for your diners leading to bad customer service.
Having digital menu boards can solve this issue to quite an extent.
3. How often do you make updates to your menu?
If you make yearly updates to your menu, paper prints might work well. However, from what we have observed, most of the restaurants go for regular menu updates which might be weekly, fortnightly or monthly.
Paper menus do not fare well in this scenario which makes digital menu boards more preferable.
---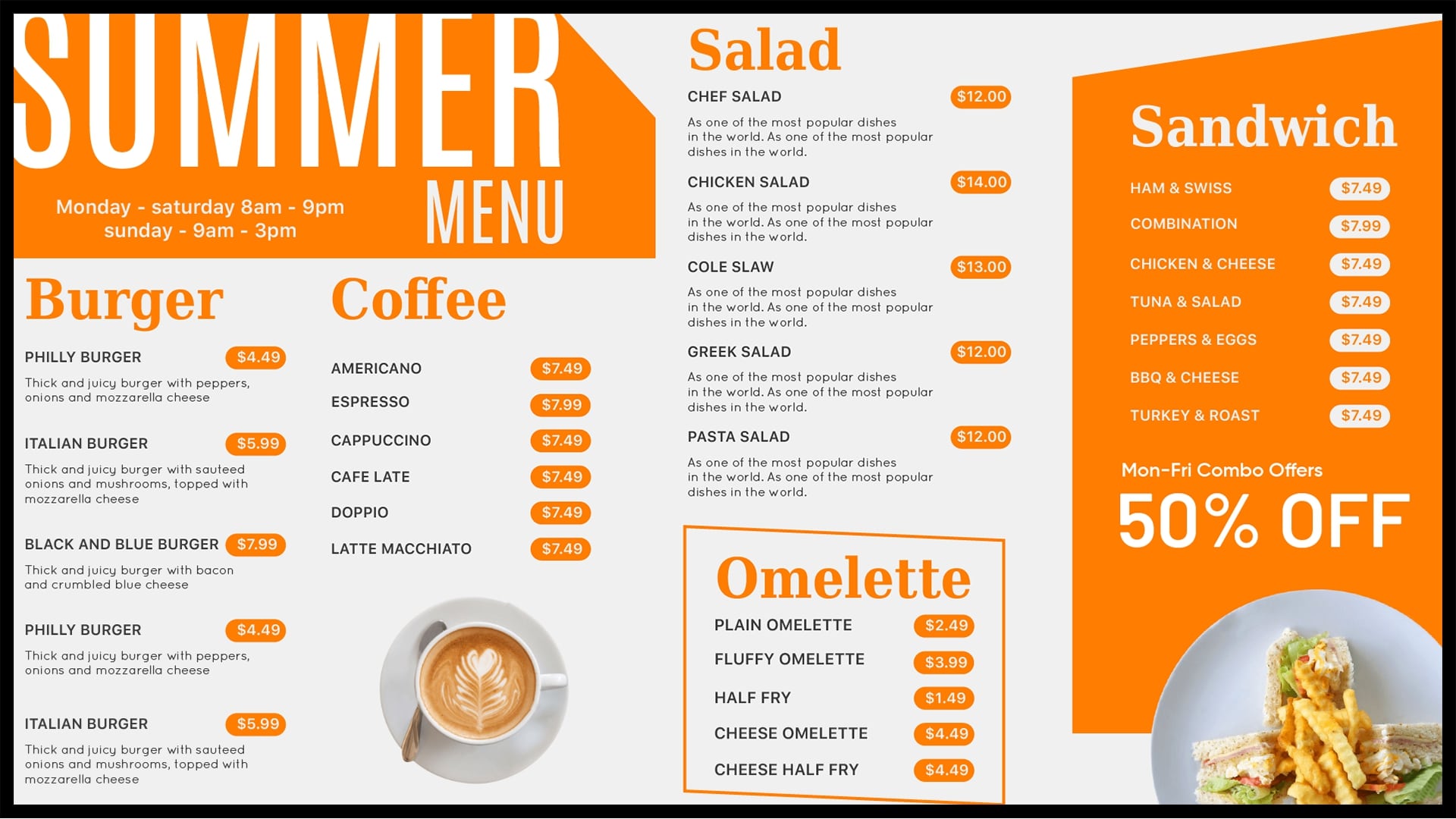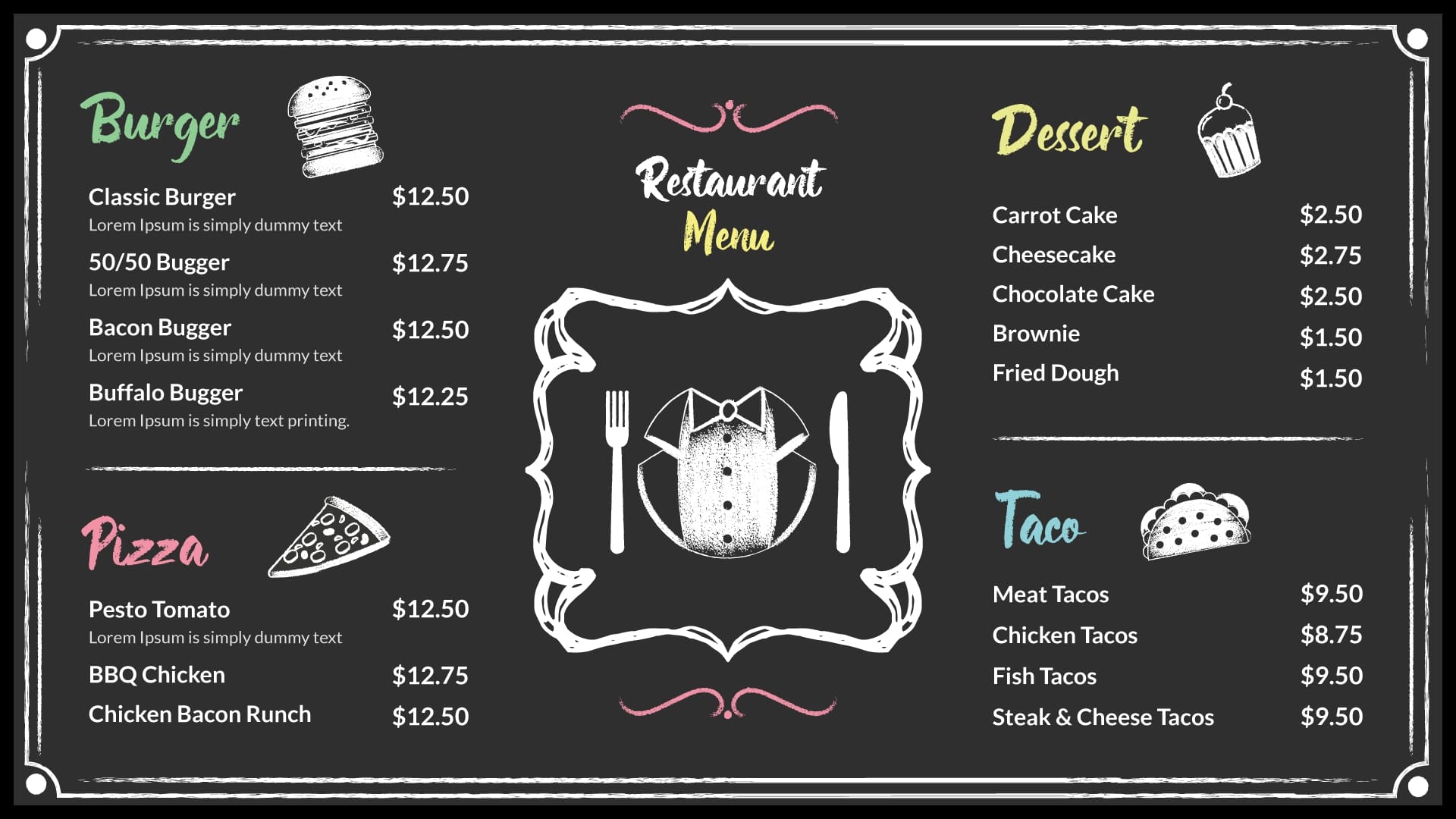 ---
4. What is the cost you incur in the paper prints of the menu?
One could spend around 10 cents per page for the menu prints considering the quality of paper that is needed for such menus. Considering that you can expect to shed quite a few dollars on every menu update.
The other cost is getting the menu designed as well.
Now, if we talk about the digital menu boards, you save on the printing costs and don't need to worry about the frequency of menu updates.
You can also save on the designer efforts here since our software comes with a super easy template editor . You can go on to make the menu edits yourself.
5. How often do you have new offers/promotions to market your services?
Most of the restaurants tend to run offers every month and would need people to take notice of it. TV screen menu can be a great way to grab attention.
With a menu screen placed at the entrance of your place, you can entice passersby to come in and have a quick bite. This could certainly work out in your favour if they decide to come by again.
With the right images, text and marketing messages, you are sure to get more footfalls and attention to your promotional activities.
A single screen can thus be put to multiple uses.
Still wondering if digital menu boards would be a right fit for your business? Schedule a quick demo with us. We can help answer your questions and would be happy to guide you through.
We offer both hardware (Media Player) and software from our end so technically, you won't have to worry about procuring stuff.