According to a study, 8 out of 10 customers are influenced by digital boards and make their ordering choices based on it. Digital menu boards are the future of the restaurant industry. Now, even more, since digital communication is a contactless way to deal with the pandemic and its forthcomings.
If you do not have a digital menu board already, then going with the idea of it might bring in many questions. The cost, the maintenance, the working and the return on the investment – all of these are the first things you might want to have clear answers on before making a decision. We get it and its totally understandable that you might want to weigh in everything beforehand.
Benefits of Having Digital Menu Boards in Your Restaurant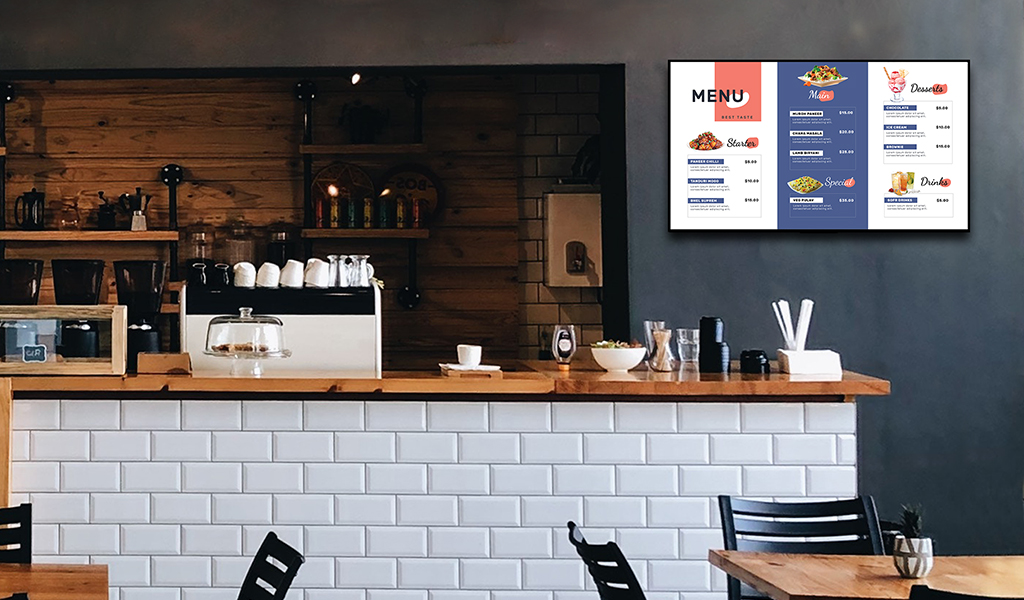 1. Simple menu edits/updates without any hassle
Paper menus need a lot of work when any update is needed. Right from getting a design update to getting it printed, all these tasks are time consuming. With the right digital signage, any change in the content on the menu can be made easily.
Right from updating items in the menu that are out of stock, creation of new offers, changing prices or correcting spelling errors, everything can be managed easily using digital menu boards.
We have many in-built menu board templates that can be used or tweaked as needed.
2. Cloud-based solution lets you manage content from anywhere
Most of the menu board softwares are cloud-based which means you need not be physically present at the location to make any changes or updates in the menu. You can be sitting anywhere and making changes.
If an item goes out of stock during rush hours or if you have added any new item in the menu, edits can be made in no time. Getting live with the software is a task of minutes as well.
3. Display any type of content be it video, images or HTML
Paper menus get all boring with the static displays. With digital menu boards, you can display anything along with the videos that will eventually grab more attention.
If you are employing multiple screens at your restaurant, you can dedicate a single screen to interesting videos, social media feeds of your restaurant page, news feeds or anything that is engaging apart from the menus. Interactive HTML as well can be displayed such that customers can navigate menus via touch screen before placing orders.
---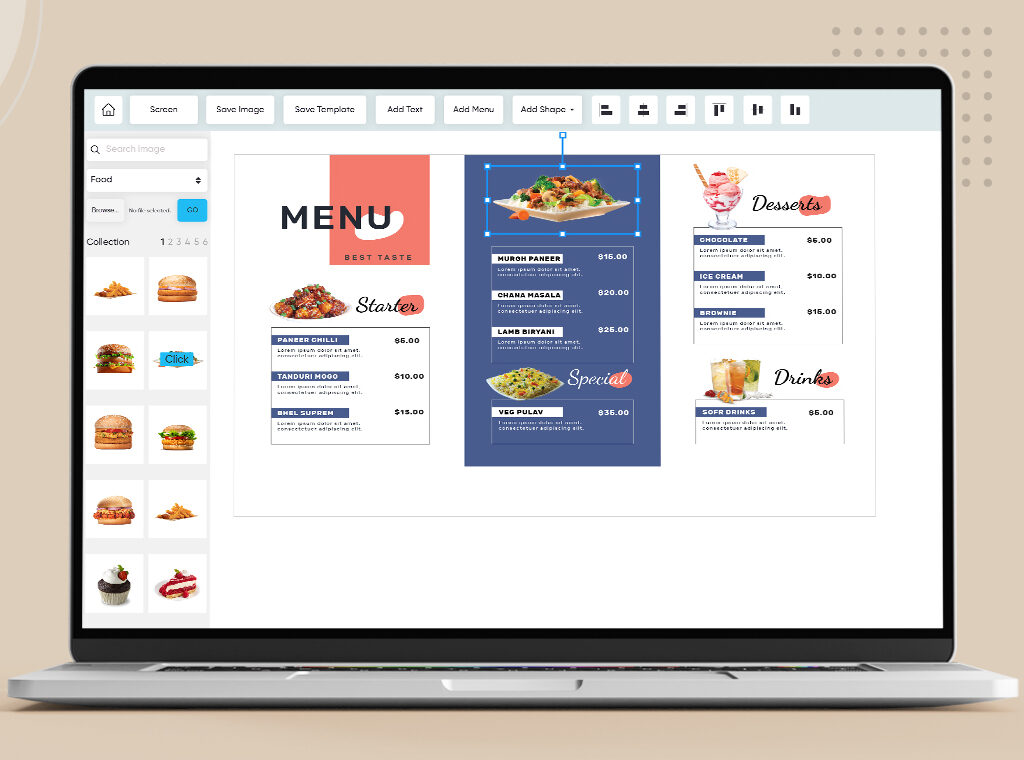 EASY TO USE MENU BOARD TEMPLATE EDITOR
We have 100+ free menu board editable templates that can help you increase sales by 30%
---
4. Multi-purpose and resourceful
As stated earlier, digital menu boards cannot just be used to display menus but can be used for many other purposes like displaying offers, showcasing engaging news feeds or social media feeds or interesting videos on food being prepared.
If you have different menus for different time periods of the day — you can schedule them as needed and plan it well in advance. With menu boards, the possibilities are many and you are free to showcase content as needed.
5. Save on the redundant printing costs
Any minor update on the paper menu leads to the whole set of repetitive tasks right from updating the menu design and getting it printed. With the kind of fast pacing life that we have now, this does not make sense at all.
Digital menu boards stand as an answer to this and help you eliminate almost every drawback that paper menus offer. They might seem a lot of investment to begin with but eventually, they are here to stay and give you much more in return over a period of time.
6. Save on the time and resources
Just as you save on costs, you also save a lot of time for the staff that is responsible for the menu creation and updates. Managing menus with digital menu boards is very easy. With different kinds of free digital menu board templates available in softwares like Lira Screen, all your staff will need to do is select one, tweak it and get started. 
These templates once created can be saved for future use as well. So all in all, both time and resources are saved with digital menu boards.
7. Increase your upselling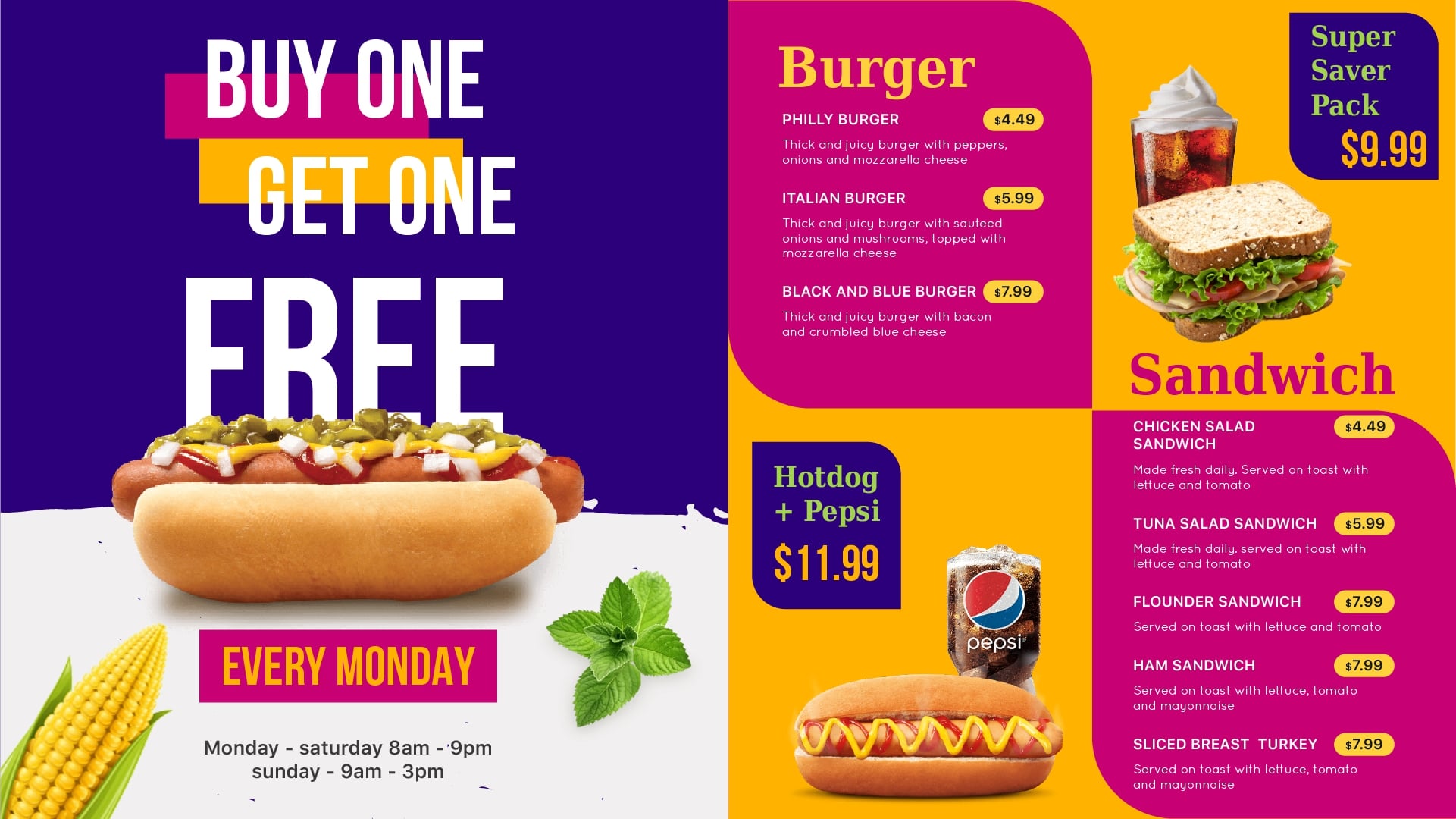 If your menu boards have been integrated with a POS system, you can easily add complimentary items that will act as an upsell. If not, then also you can add upselling items in the menu like Fries, a diet coke, brownie or a shake by creating combos that are worth spending on.
By displaying appetizing images, it gets even easier to increase chances of getting orders on these clubbed items than any other.
8. Step up the customer experience
Customer experience is the most important benefit that you will get from digital menu boards. With the pandemic, this will factor in even more since people would not want to use paper menus.
A digital menu board or tablets for self-ordering will be the best alternative now. Adding to this, there are so many possibilities to cater even better customer experience by displaying engaging videos on the TV, news feeds or social media handles.
All of this will add on to a better customer experience at your restaurant.
9. Maintain consistency across different locations
If you are a brand with many locations, it is important that the same branding and menus are followed everywhere. If you go on to check the digital menu boards that QSR brands like McDonalds, Subway or Starbucks adopt, you understand what we are trying to emphasize here.
Smartly designed menu board software allow you to group devices and map the same menus to all of them in a matter of minutes. Same schedules and playlists can be created for each of those so your brand can maintain consistency and get increased brand recall with these efforts.
10. Grant roles and access
You can easily grant roles and access to every section of the menu creation to the concerned staff easily from a sound digital menu software like Lira Screen. This leads to better delegation and more productivity especially if you have a dedicated team assigned to it.
As a super admin, you can access any section of the menu and edit anything. Big brands that have hundreds of restaurants spread globally can put this feature to a good use.
11. Market your services
It might so happen that along with the dining, takeaway and delivery, you also offer other services like party orders or catering orders. You can use menu boards to display that information so visitors know about it and can avail them when needed.
If you are offering snacks like freshly baked cookies or pastries alongside, you can again use menu boards to market this service of yours
We believe with these top benefits we have established the fact that menu boards are here to stay for long and it's high time you get one at your restaurant if you don't have one yet.
They are going to be a great help to you and your staff in many ways. Reach us out at sales@lirascreen.com if you are looking to check out our digital menu board solution that is equipped with a smart menu template editor as well.
Let's connect today to discuss your needs, shall we?