If you serve a delicious burger, people are going to flock at your place without any effort. But customer experience is also a thing. A clearly designed menu, well-represented menu items and prices on a digital menu boards can help you in a lot of ways.
Today we are talking about how digital menu boards at your burger joints can help you increase your sales and customer satisfaction. 
To start on that, we will talk about how digital menu display screen can benefit your business:
They help to increase your sales by 30%
They are cost effective and very easy to update
They help you reduce wait times
They help in upselling and cross selling your food items
If you own a chain of burger joints, it helps you maintain brand consistency
They help you design and create offers very easily.
You are offered the flexibility of displaying videos irrespective of the static menu posters
Adding to this, there are many other benefits to having digital menu boards at your burger joints.
10 best templates that we feel can add a lot of value to your burger joints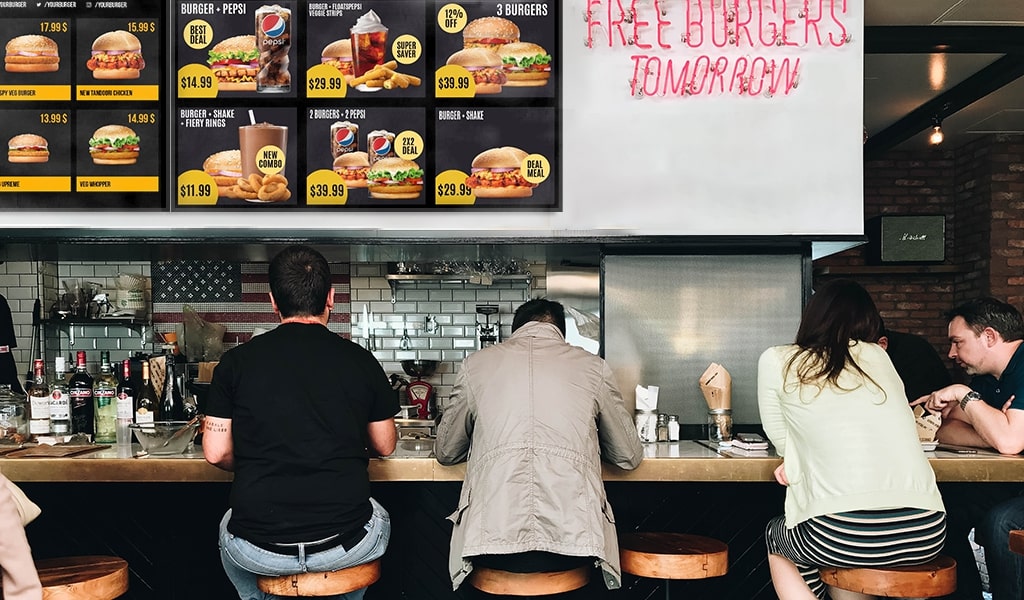 1. The black and white one!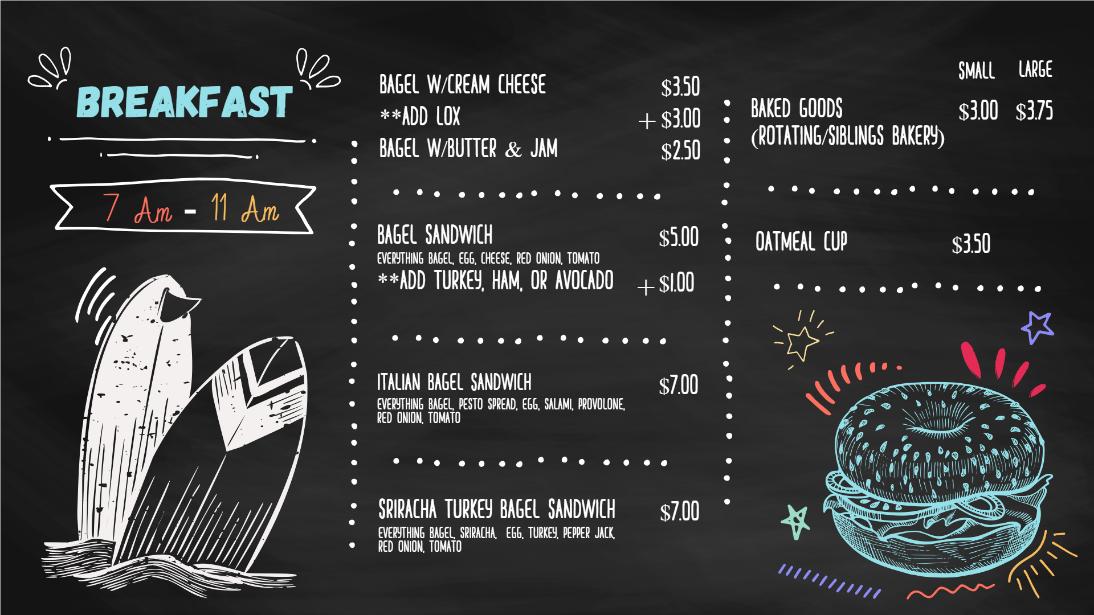 Chalkboards will never go out of style. The better part is you can easily add menu items and edit them like you need.
By using amazing stock images, you can recreate your chalkboard menu template easily and have the same feel as that of a traditional chalkboard.
2. The classic white one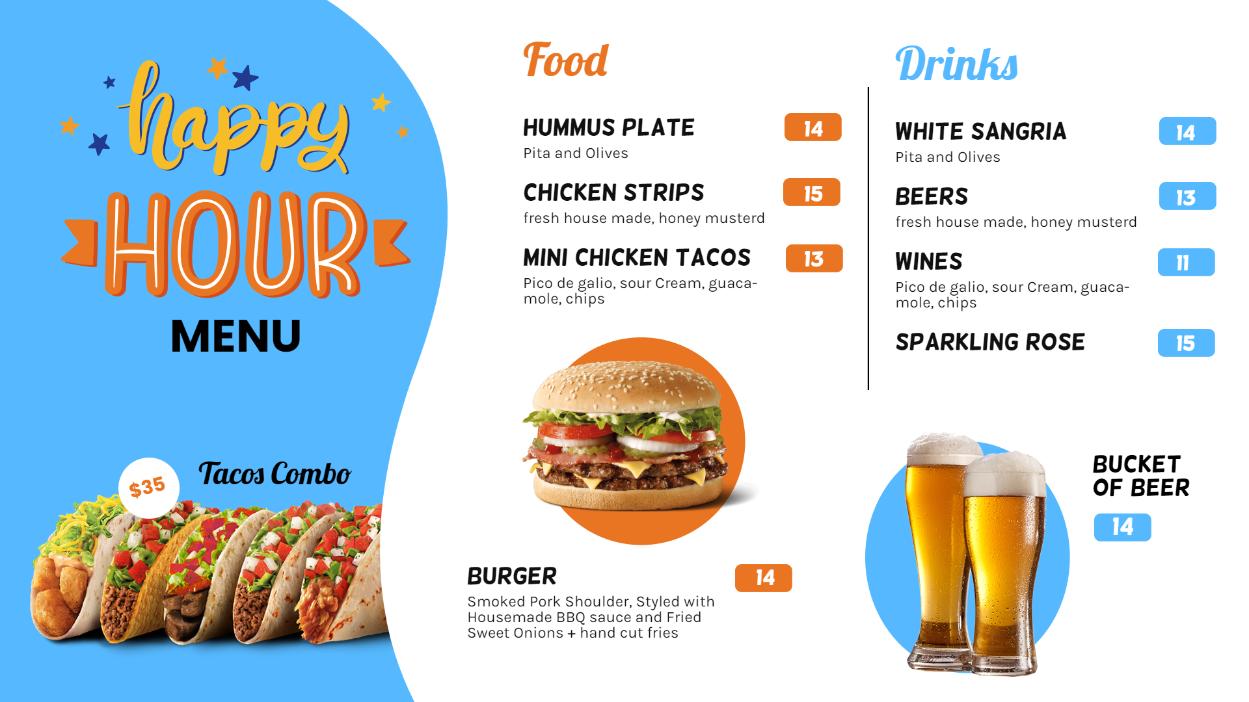 This is easily be said as one of the most flexible templates you can have. You can change the colour to what you need and also tweak the items as needed.
This works best for your happy hours or if there are combo offers that you are planning to highlight, it should work fine too.
3. The best burgers in town one!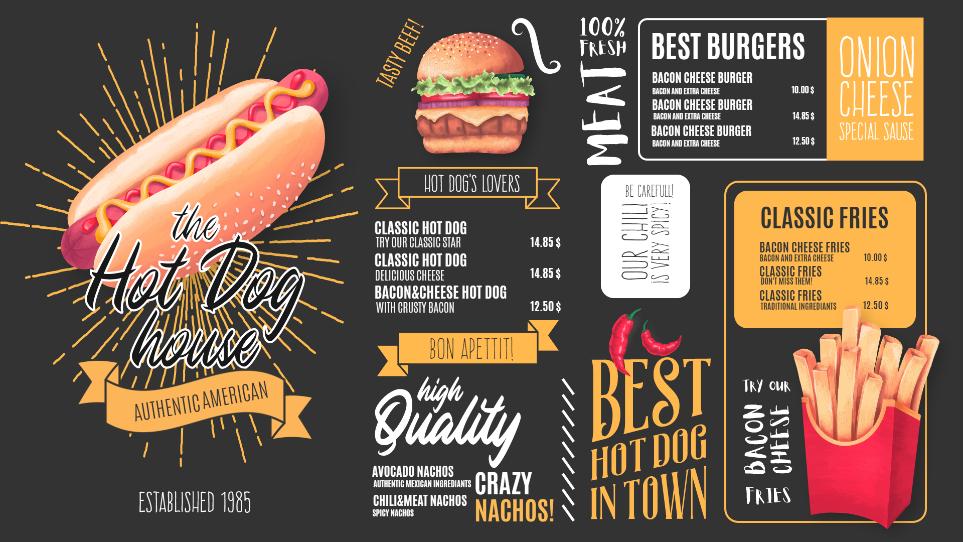 This is one of our best templates. The vibrancy of the template, ability to add different menu categories, the colour palette used for this template – all lead to creation of a template that is best for the burger joints.
You can easily go on to add your own high quality food images as well to create an amazing look for this template.
4. The classic yellow template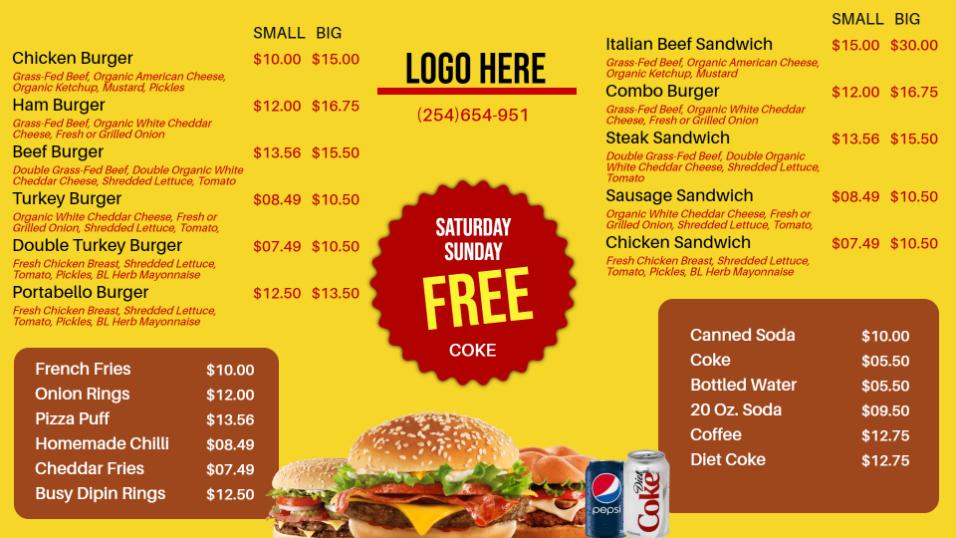 As you can see, this template does not have any image except for one combo image.
Put in the menu items that you need, maybe change the background colour and the red one to something matching and you are good to get started.
5. The colorful one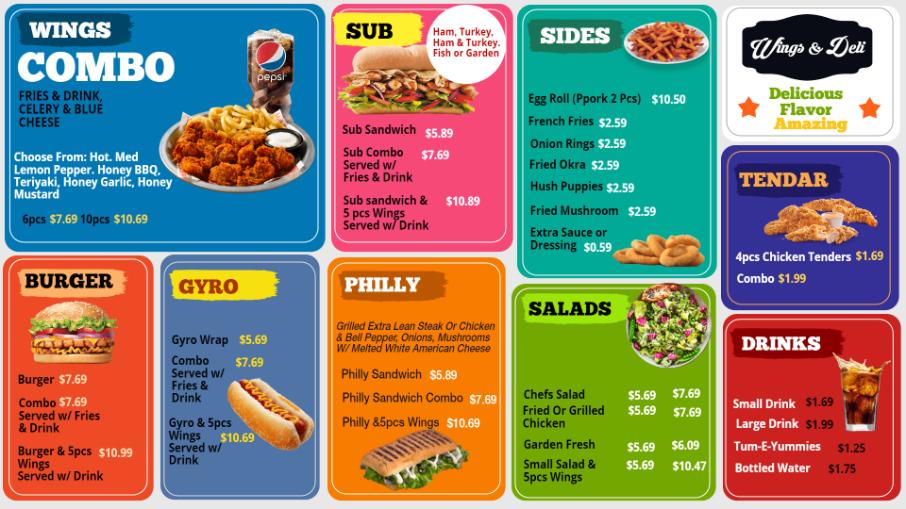 This is probably the most vibrant of all! With almost every colour for every category, you have the flexibility of tweaking the menu as you need.
This is probably a good menu template where you have a lot of categories and you want to highlight each of them.
6. Theme 1: The single burger one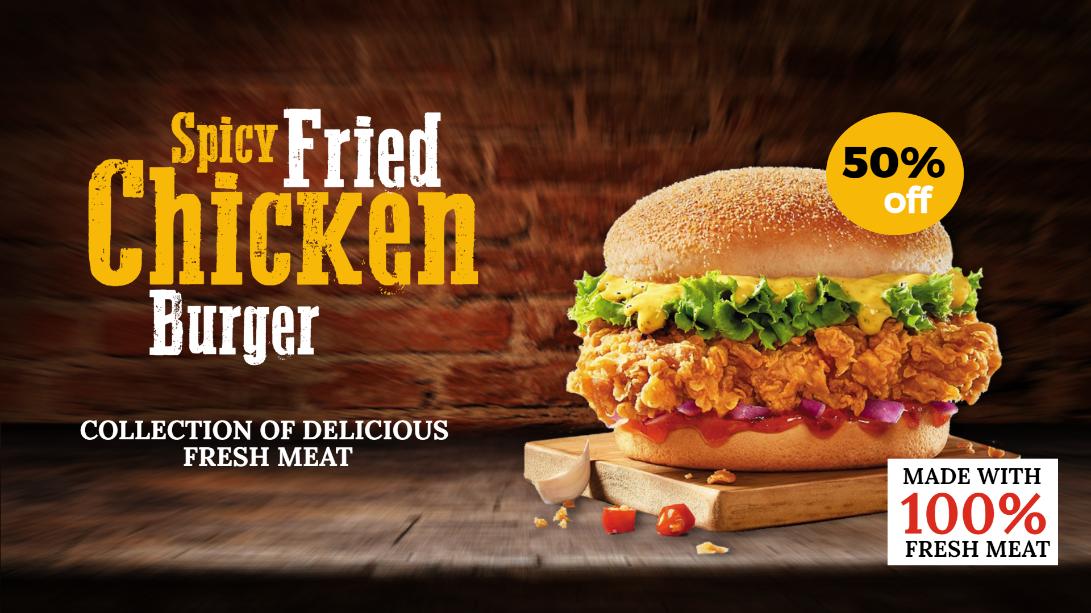 This is again a very good burger template that you can use to showcase your best burger and get more orders for it.
Just go on to change your burger image for this one and change the text, then you are good to go!
7. Theme 2: The single burger one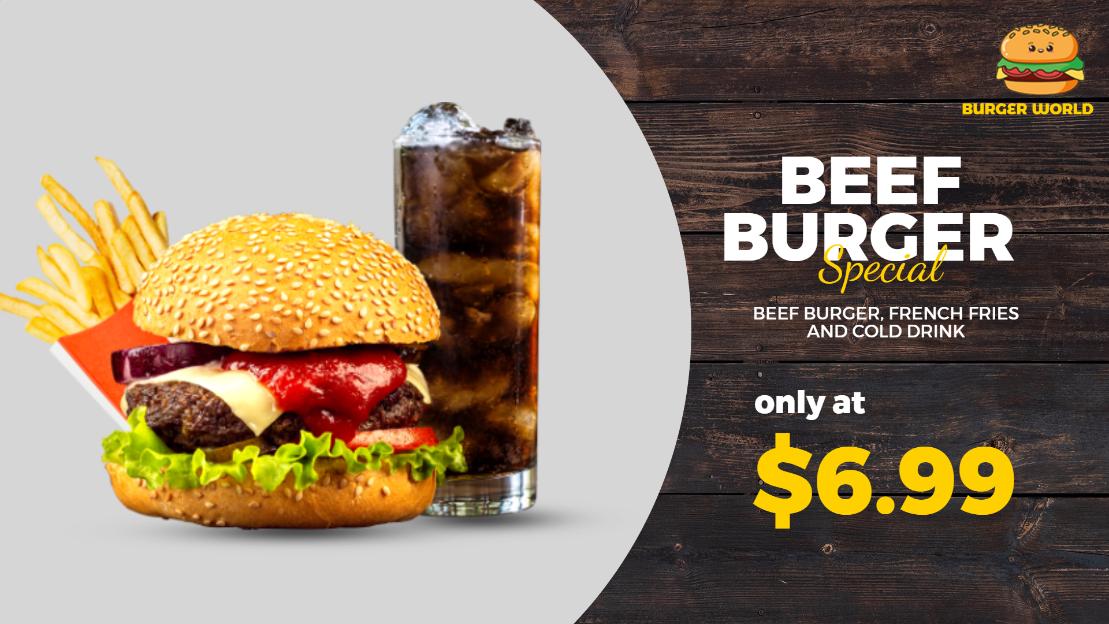 This is again a very good burger template that you can use to highlight your best product. Its clean and rich look does it all for you.
Simply change the name and item price and you are good to go!
8. Combo 1: The white and everything one.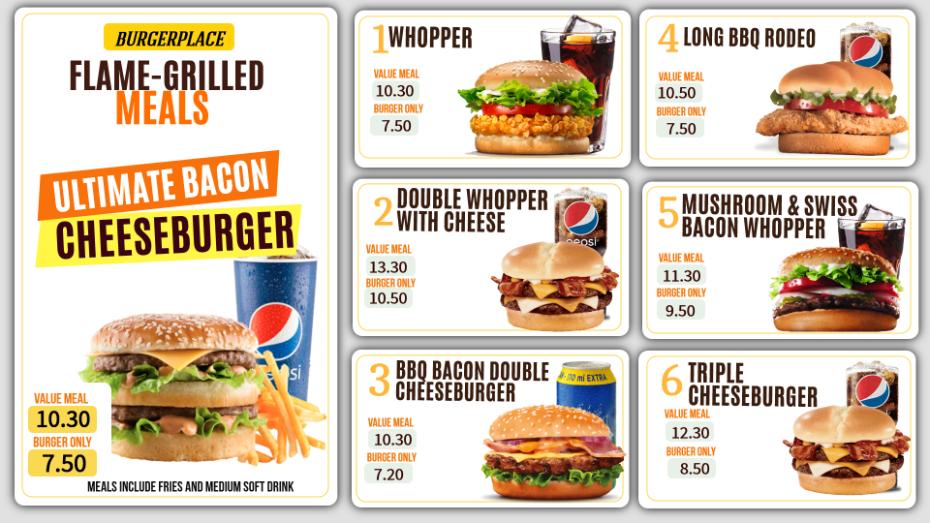 Every colour looks great on white. This menu is specifically great for combo items.
So if you have a bunch of combo items that deserve a separate menu board template, this is good to go for.
9. Combo 2: The Orange and everything one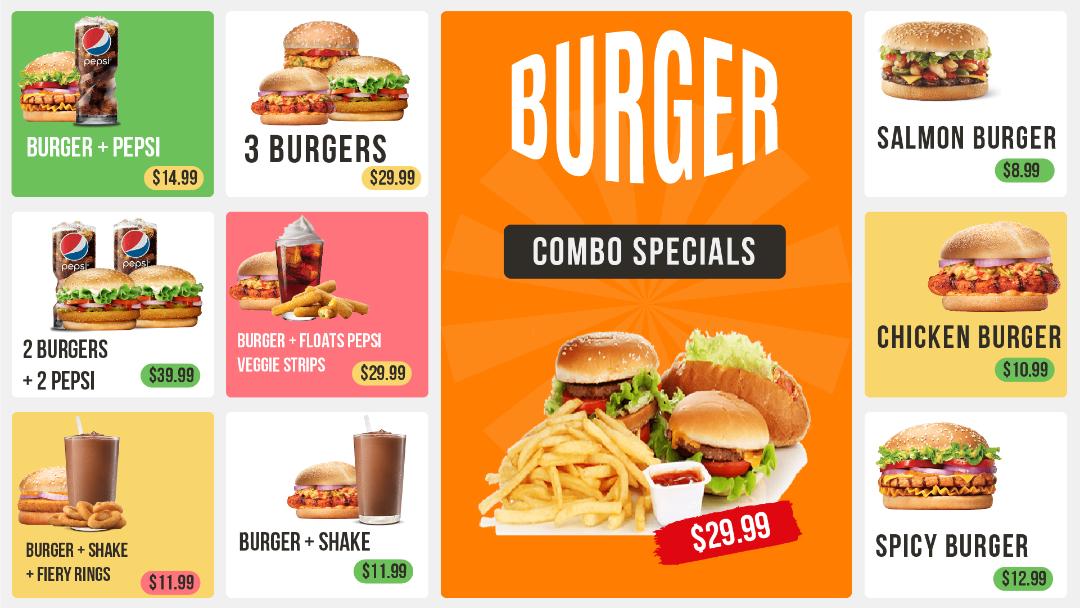 Again, any colour would look great on white and this template is a classic example of that. You can also go on to change the colour of the template a bit.
Bring out the best in your combos with this amazing template.
10. Combo 3: The best of burgers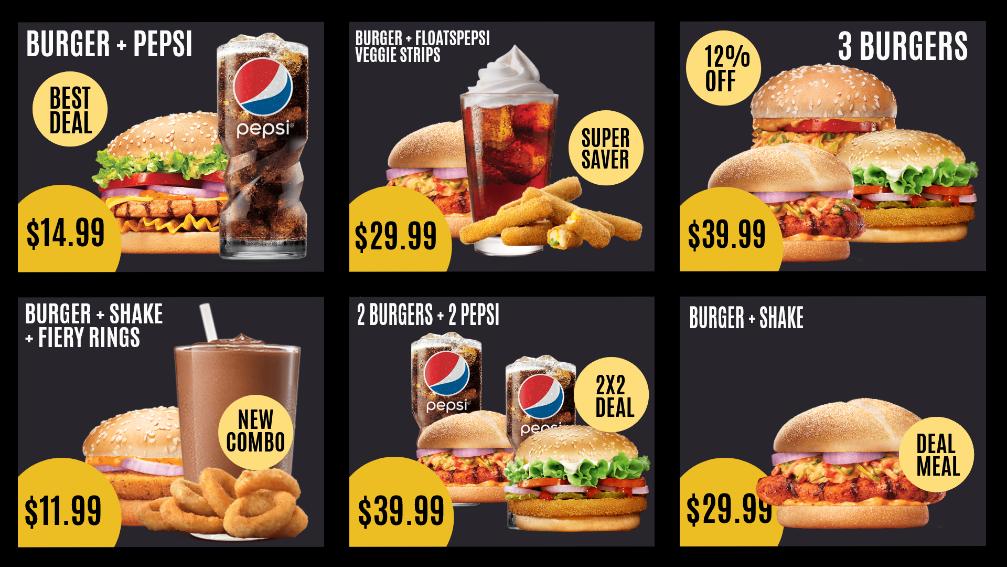 Black and burgers seem to compliment each other. This is again a very good template especially if you are looking to have one with a drink on it.
Just quickly go on to change the menu items as you need and update it like you need.
If you are looking to get access to these templates or want to have a digital menu board solution, reach us out at sales@lirascreen.com today!