Right content has the potential to get your brand and business to the right places. With the power that social media and digital tech solutions offer, all you need to do is find your niche and set out to create something awesome.
With this blog, we give you some tips and tricks to create engaging menu displays if you own a restaurant. There is no denying that menus are the first point of communication you have with your diners. The right food images, proper descriptions of each of the dishes, the taste, the ingredients all of these lead to the creation of the right menu.
The preferred food will be ordered only when diners know what they will be getting. Though you might be using a digital menu board or tablets to get orders, it is important that your menu is designed right.Apart from that, there are several other things you can start doing to make the utmost use of your signages.
Digital Signage Content that Increased Sales Orders in Restaurant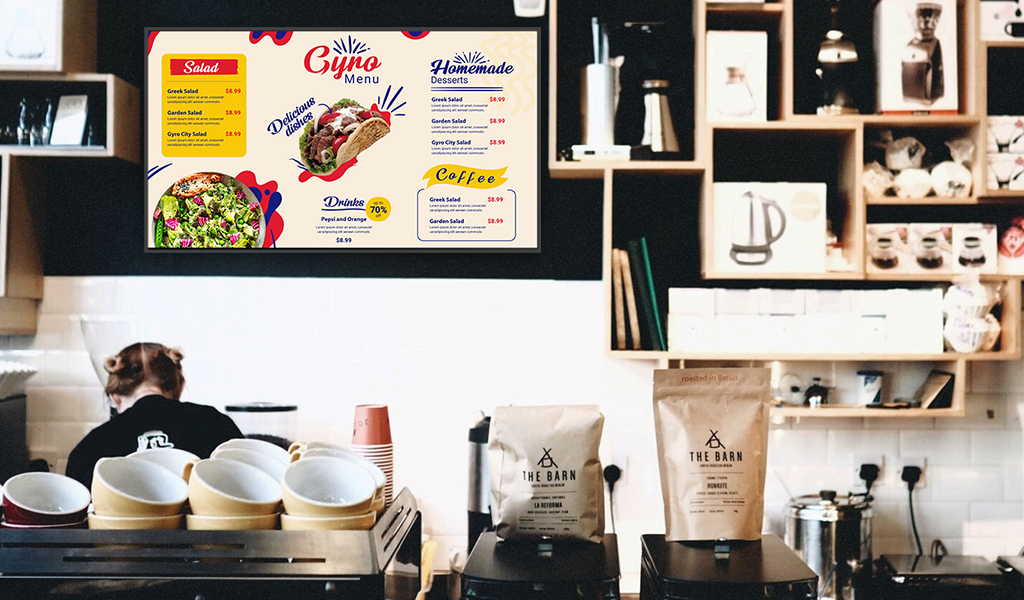 1. Create a different menu for your menu specials or best sellers
Often the menu specials that make your restaurant stand out are missed out in the menu displays. A diner cannot figure out himself which item is the best at your place. To ease it out, create a menu special digital menu board separately so users can give a specific look to it.
There might also be some regular menu items that diners prefer more over others. You can highlight them as well so they grab more attention.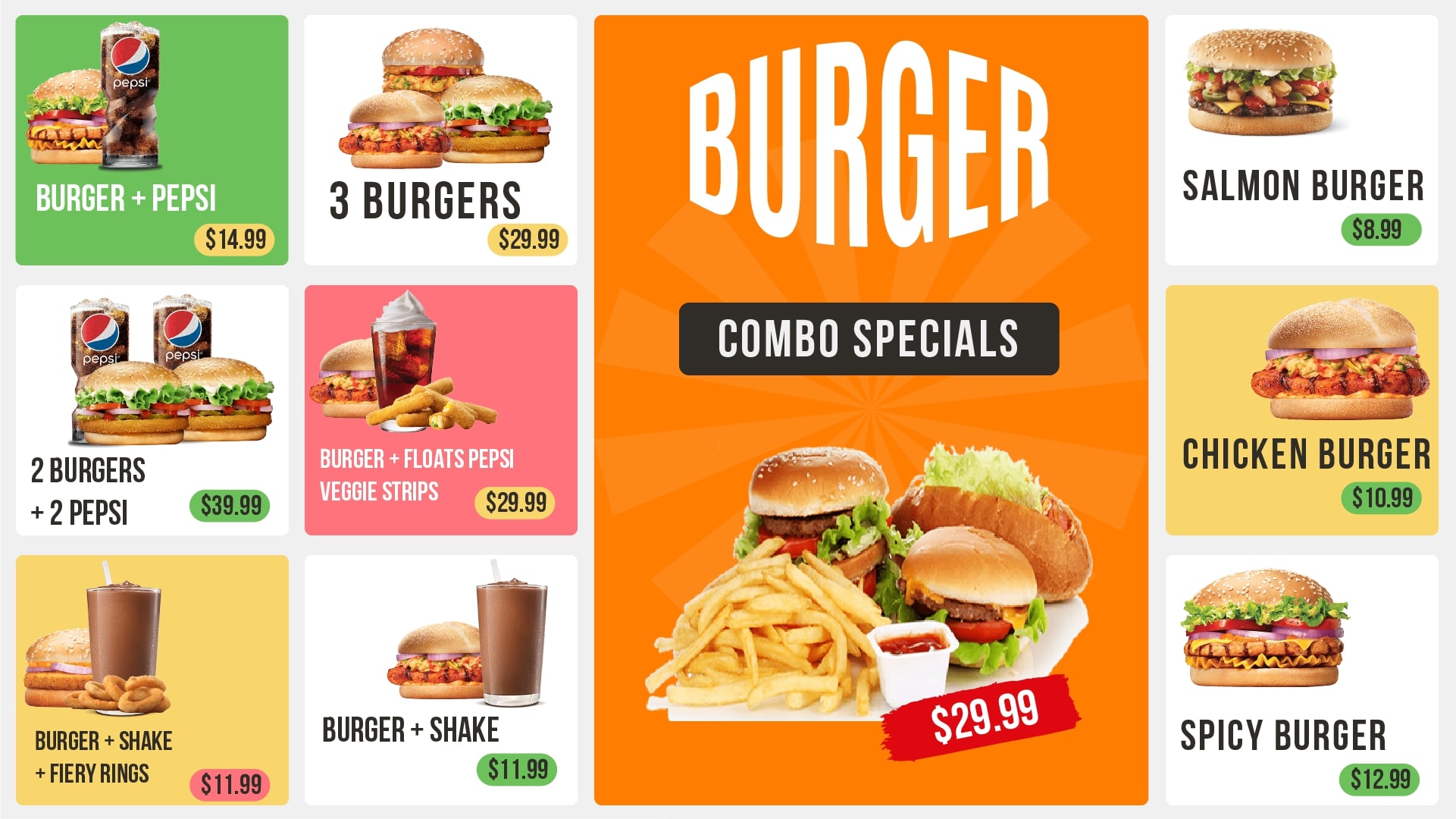 Go on to have a digital menu board instead of the manual orders that waiters take. If you are a fine-dining restaurant, opt for digital menu tablet ordering. This gives more convenience to your customers to know items on the menu and place orders directly from the tablet.
For you as a restaurant, it will be very easy as well to manage the updates in the menu items easily. Using our tablet ordering system, Any change in the menu items, its prices, and out of stock items can be managed.
2. Display the Order Status
If takeaway is on a higher end at your restaurant or if you are a QSR, go for signage that display the order status. Consider McDonald's as a scenario. It is always crowded and has both types of diners — the takeaway ones and the dining ones.
Both can check their respective order statuses and collect the order. The benefit of this is that it helps you manage the crowd and reduces the chaos due to rainfall of orders.
We offer an in-built order status app which you can directly use with your signage. Even if you are not having rush hours, consider displaying order statuses and it will definitely add to the comfort of the diners.
3. News feed or brand commercials – help customers on the dwell time.
Takeaway restaurants who face rush need time to prepare order and while the food is being cooked, they can opt to have signage to display engaging news feeds or brand commercials or engaging video of amazing food items being prepared — this could lead to less chaos and the waiting time can pass on quickly.
With content specific apps on systems, all you need to do is select the right one and you are good to get started. News Feeds from different well acclaimed and followed channels can be broadcasted. Brand commercials that are different and tend to grab attention can be displayed to help them pass with the waiting time.
You can also go on to have social media feeds to be displayed. This connects more with the young crowd. These feeds can also very easily be linked to the device using digital signage.
4. Some good music can definitely create the right mood!
Well no one will hate to listen to some good music. Displaying some trendy music videos can just take the entire atmosphere of your restaurant and can definitely lift the moods.
If you are placing yourself as a restaurant that is calm and serene, you can go for soothing numbers. Go for upbeat music if you are planning to grab more of a young crowd to your place. Music can really define the entire feel and aura of your restaurant.
Pay attention to the sound quality, the frequency of a single song or music being played and the need of updating the playlist every two weeks. You might notice that diners will want to stay more at your place even because of the choice of music that you have.
5. Go on to display personalised birthday wishes or any other event
If there is a couple or a family at your restaurant and they want to display birthday wishes for their special one, you can go on to use canvas template editors that are offered in app store. All you need to do is input the name and other details you wish to. Go on and publish it in no time and make the day even more special for the birthday girl/boy.
Likewise, if there is any special request from any of your diners, you can always go on to display something quite instantly on the signage.
6. Promote your future offers well in advance
This is something restaurants always miss out on but should pay more attention too. If they start displaying their future offers well in advance, there are high chances that current diners might book for them already. Your sale is almost instantly done there.
If you are a restaurant that organises music nights or stand-ups, go on to market them well in advance starting two weeks ahead. This will ensure that your restaurant is fully booked on the day. Place the signage such that every visitor who enters the location knows about it and pays attention to it.
Start with these and you can keep personalising your content to get that loyal group of diners who will always choose your place over others. The quality of food is equally important but firstly, you need to go on and create a niche area for yourself. The kind of content that you display on your signage will play a very important role in this.
Looking to have digital menu boards or tablets at your restaurant? Reach us out at sales@lirascreen.com and let's discuss your needs!